FIF In-Person Event Sponsored by OTC Markets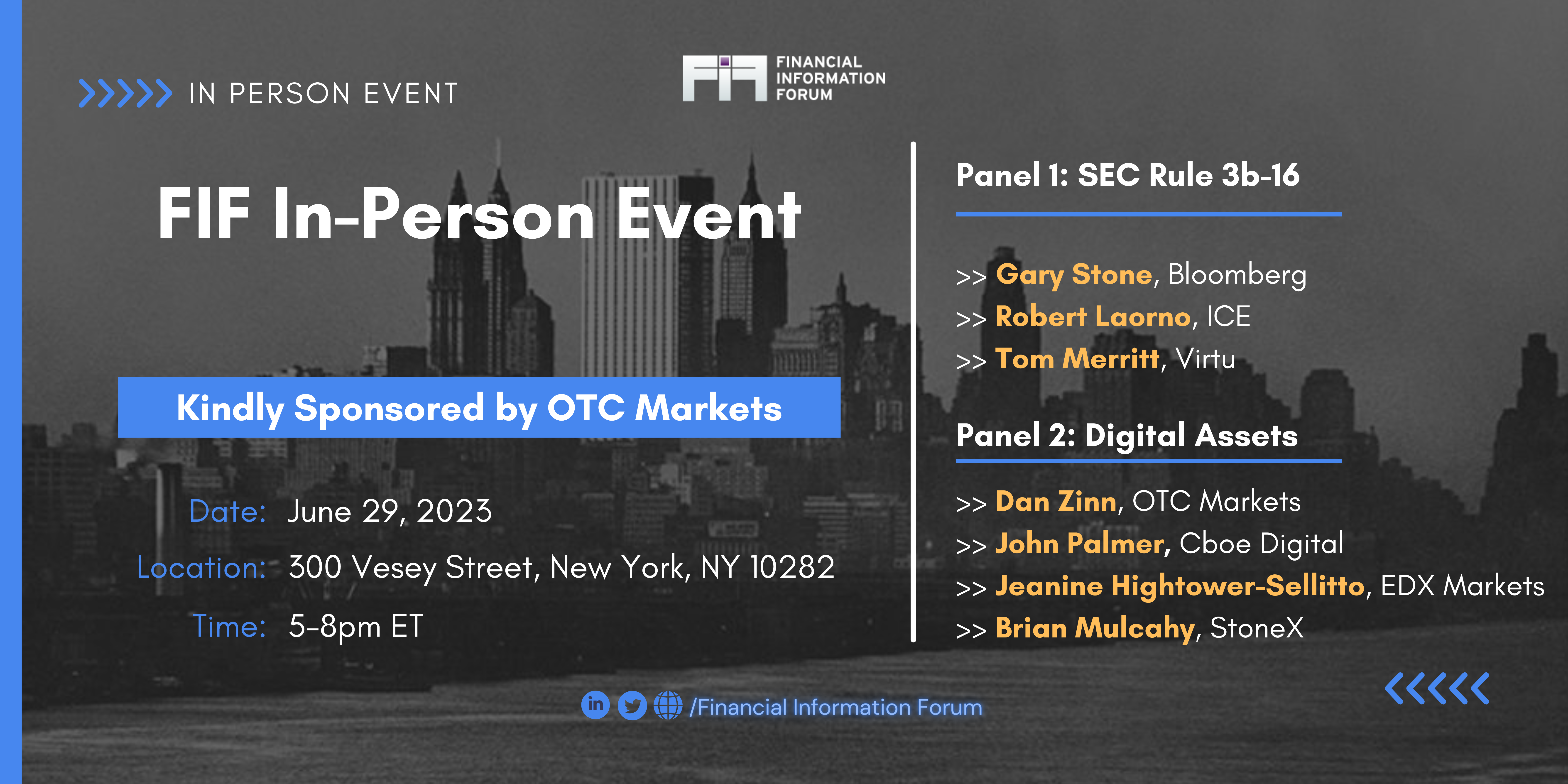 On June 29th FIF will hold an event at the offices of OTC Markets (300 Vesey Street, New York, NY 10282). There will be two panels, with one focusing on the SEC proposal to amend the Rule 3b-16 definition of an exchange and the other focusing on Digital Assets.
Our first panel of the evening will be "SEC Exchange Act Rule 3b-16- New Exchange Definition, Revised ATS Regulation, & Reg SCI". The panelists will be Robert Laorno of ICE, Tom Merritt of Virtu, and Gary Stone of Bloomberg. This panel will discuss the SEC's proposed changes to the regulatory definition of an exchange and the SEC's proposal to expand Reg ATS and Reg SCI to apply to Government Securities ATSs. The panel will also discuss the potential impact of applying Reg ATS to communication protocol systems and negotiation protocol systems.
The second panel is "The Evolution of Digital Assets to Mainstream". Panelists are Brian Mulcahy of StoneX, John Palmer of Cboe, Jeanine Hightower-Sellitto of EDX Markets, and Dan Zinn of OTC Markets. This panel will discuss emerging activities in Digital Assets. Topics will include the current environment and Digital Assets similarity with, and differences from, current asset classes. Regulatory issues are not resolved, but panelists will discuss initiatives in play that advance the growth of this asset class. Definitions of terms and processes will also be shared. The moderator for both panels is Tom Jordan, the Chair of the FIF Advisory Committee.
Registration in the lobby begins at 4:15pm, the speaking engagement will be from 5-6:30 pm with refreshments and networking afterwards from 6:30-8pm. FIF would like to thank OTC Markets for sponsoring this event. FIF Members can register for free below, if you have any questions you may contact the program office at fifinfo@fif.com.
Event Properties
| | |
| --- | --- |
| Event Date | Thursday, Jun 29, 2023 5:00 pm |
| Cut off date | Wednesday, Jun 28, 2023 12:00 pm |